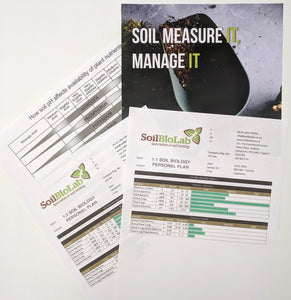 1:1 Soil Biology - Personal Plan
Regular price £250.00 Sale
If you're looking to start understanding and benefitting from managing the life in your soil,
 or simply take things a step further, this will help.
Assistance and advice on how and when to collect a sample
Laboratory analysis of one soil sample which which will be used to produce your own plan and will determine pH, EC, Soil Organic Matter, Bulk Density, Soil type/Texture, Available P, K, Mg, Moisture content, Active and Total Bacteria, Active and Total Fungi, Fungi hypha diameter and organism ratios
Soil testing summary and guidance designed around you and your resources to increase your soil life.
Direct contact with our experts 
Whether you manage large arable crops, livestock, turf grass, parklands, trees or are a budding horticulturalist growing high value crops, we want to help you unlock the potential of increased soil microbial concentrations and activity. 
Purchase this plan and you will receive a form to complete so we can start designing the perfect plan to help you boost your soil microbiology.